GIANT MAIN HEALTH EVENT 2021
THE MAIN GIANT HEALTH EVENT 2021
30 November - 1 December
Hybrid | Real world, in person, at Business Design Centre, London | Plus fully virtual
"Europe's largest, most valuable annual festival of health-tech innovation"
- Financial Times
The GIANT (Global Innovation and New Technology) Health Event is an unmissable innovation festival with over 25 conferences, 450 speakers, immersive workshops, and Beanstalks (a global startup competition for prizes). Our vision is to improve the health and well-being of people around the world, by promoting healthcare innovation and supporting health-tech entrepreneurs. In 2021, we will be holding two events aimed at creating opportunities to connect people who would not have crossed paths otherwise.
GIANT also serves the global health-tech community with: a weekly email newsletter, fortnightly live TV Show and weekly podcasts
What is GIANT Health?
GIANT Health is a healhtech innovation community of nearly 200,000 people. Our events deliver high-impact networking and cost effective new business, sales and marketing.
Nearly 200,000 contacts including:
Largest global corporates, thousands of SMEs to the smallest healthtech startups.
Bankers, accountants, lawyers, management consultants and advisors.
Doctors, nurses, midwives, hospital managers, medical students.
Here is our agenda featuring a collection of world experts sharing leading information about the world of healthcare
Click to find out more about each of our conference tracks
UPDATE: all GIANT Health conferences will be updated and improved every 2 weeks in the run up to the 30 November - 1 December main event. Please check this page regularly for more new information and additional conference tracks.
The GIANT Health Event, London
The GIANT Health Event is a distinguished 2-day international festival of healthtech innovation.
Now in our 7th year, for 2021 we forecast:
What's new for GIANT Health 2021?
Our GIANT 2021 event is an invaluable, cost-effective global hybrid event. Combining both a real world physical trade show and multiple conferences in central London, as well as a sophisticated and engaging virtual event based on GIANT Health's proprietary Virtual Event Platform.
In 2021 GIANT Health is delivering new and improved services to exhibitors, sponsors, and strategic partners – more valuable than virtual or face-to-face only events.
Our events are focused on increased engagement for you – directly connect with buyers, investors, customers, from around the world.
Structured Networking – Pre-arranged 1-to-1 meetings.
Market Entry Programme – Supporting hundreds of established healthtech SMEs from continental Europe to access the UK health system.
Beanstalks – Now in our 7th year, GIANT Health's international healthtech startup competition for prizes.
"The GIANTS of healthcare"
International Awards programme
Numerous conference tracks on the leading topics of health-tech today delivered by world experts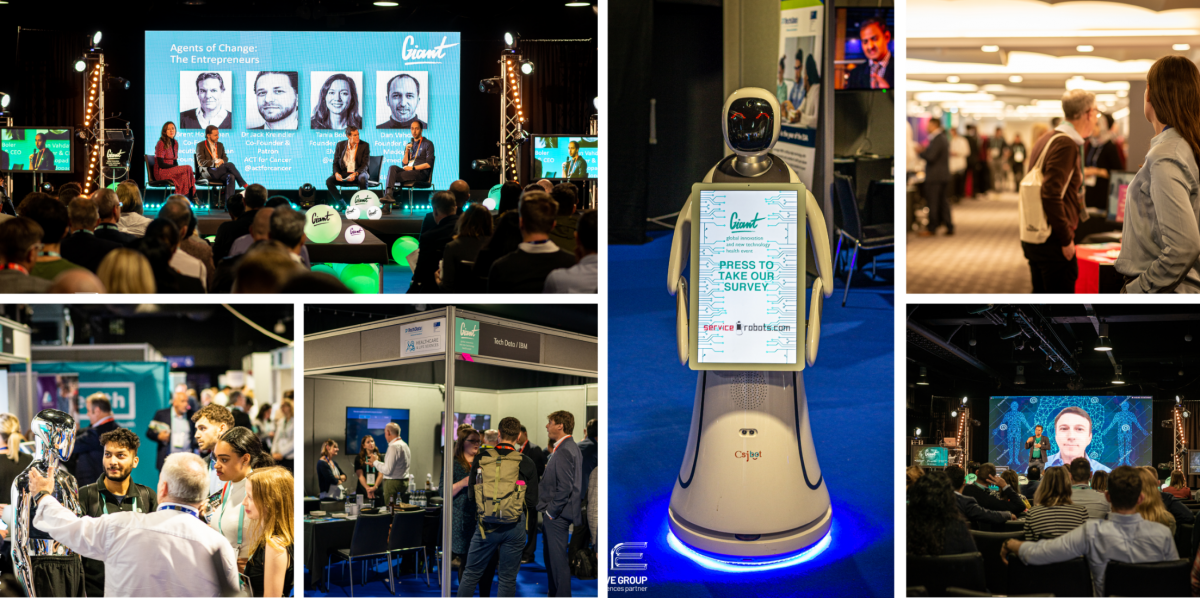 It was fantastic to see the brilliant work being done by health innovators at Giant Health Event this week. So excited to be a part of the movement towards prediction and prevention
Dr Jamie Wilson, Founder, myhometouch
Attending GIANT was an excellent beginning to cereno's entry into the Healthcare Industry. This event has allowed us to open great opportunities that would have otherwise been inaccessible.
Caroline Goatley, Marketing Manager, cereno
The team at Alder Hey was honored to be part of such a prestigious global healthcare innovation event; we work so hard behind the scenes incubating our innovation pipeline and an opportunity for the team and our partners to share and showcase our portfolio to a global stage is invaluable. The event was unanimously praised as a success, we look forward to future events and being a Giant partner.
Louise Shepherd CBE, Chief Executive, Alder Hey Hospital
GIANT was a fabulous networking opportunity. It gave us a chance to speak with a host of professionals; from young minds to seasoned doctors, physicians, and healthcare specialists who were all looking to innovate in this sector.
Moe Miah, Producer, VISYON 360
Parkinson's Concierge attended the Giant Event in 2018 and led us to Patient Engagement. We met invaluable business contacts there. Thanks to GIANT Health we're establishing worldwide partnerships with Pharma, Biotech, Med Tech, Academia, Research & Parkinson's Charities. Thank you again to the entire GIANT Health international team for your high-impact, results-driven support.
Parkinson's Concierge Ltd
"Working with Barry and the whole GIANT Health team has always been a fruitful experience for us. GIANT puts on such impactful events that bring positive actors together and are the catalyst for a myriad of partnerships that exist in the health sector today. Humanity has nothing but time always for GIANT Health."
Pete and Michael, Founder of Humanity
Note: In 2021 Humanity has raised £2.5M

Previous
Next
Partnership Opportunities
GIANT Health will:
Connect you to hundreds of UK hospital trust CIOs and CCIOs

Put you in front of thousands of leading international health and technology influencers

Give you a valuable, impactful event stage

Provide substantial online and offline promotions that can reach an audience of around 5m people in the healthcare community.

Provide access to our close community of nearly 200,000 people in health innovation.
Please share the key messages you want to present and we will tailor a creative plan that will ensure maximum exposure to the right influential people.
Our vision
Our vision is to improve the health and well-being of people worldwide, by promoting healthcare innovation and supporting health-tech entrepreneurs.
We work to achieve this via our rapidly expanding global community of healthcare professionals and businesses. Our yearly event creates opportunities to connect people who would not have crossed paths otherwise. Innovation
We have collected the largest community of people involved in health-tech in the world. Collaboration
We connect and support the entire global community of everyone whose business is within or relates to the healthcare industry Acceleration
The GIANT Health event accelerates the invention and adoption of new health technologies.
GIANT'S VALUABLE PARTNERS