The Main Stage at GIANT is the great showcase of how technology may shape health outcomes. Take a seat and some inspiration from recent breakthrough successes, emerging technologies that make new solutions possible and the great visionaries of the sector.
Day 2 discusses the roles and responsibilities for individual and population health as well as the implications for data management. With all our advances, large segments are missing out. How can technology extend healthcare accessibility to achieve better outcomes for all?
Chair
Prof Shafi Ahmed, Chief Medical Officer, Medical Realities
Speakers
09:30 – 09:45

Welcome, Day 2 intro, announcements

Prof Shafi Ahmed

09:45 – 10:10

The State of Healthcare

The need for a national approach to NHS patient data for medical discoveries and patient outcomes




Lord Drayson, CEO, Sensyne Health

10:10 - 10:30

Technology for Health in a Disaster Zone

Dr Zaher Sahloul and

Dr Nahreen Ahmed, MedGlobal

10:30 – 11:00

break

11:00 – 12:15

Who Should Care?

The Healthy Customer

The Healthy Citizen & Community




Christophe Jauquet, Healthusiasm

Alexia Clifford, Public Health England

12:15 – 13:00

It's #FabChange19 Day!

Highlighted FabChange Programme initiatives

Roy Lilley chairs and presents the teams from NHS Trusts

13:05 – 13:30




13:30 – 13:55

Lunchtime Presentations

1. Expecting a Unicorn in the House (TBA)

2. From plant to pharma, the unique situation of medical cannabis; Prof Dedi Meiri

14:00 – 14:30

It's #FabChange19 Day! Roy Lilley brings some more FAB stuff to the stage

Simon Stevens, CEO, NHS

Robbie Ayers, Princess Alexandra Hospital NHS Trust

14:30 – 16:00

Distributing the Future More Evenly

How technology can lower the barriers to truly global healthcare delivery for all

Keynote: Sumit Jamuar

Panel: How technologies narrow the healthcare gaps and what challenges lie ahead

Chair: Dr Saba Alzabin, Nabta Health

Sumit Jamuar, Global Gene Corp

Dr Masood Ahmed, DigitalHealth.ldn

Dr Ankita Batla, WPP Health Practice

Maciej Malenda, Infermedica

Dr Myles Furnace, Ipsen

16:00 – 16:30

break

16:30 – 17:15

And the winner is …Beanstalks finalists take to the stage to crown the overall winner

TBA!

Andrew Liubinas, Head of Beanstalks

17:15 – 17:30

Closing remarks and Thanks

Prof Shafi Ahmed

Barry Shrier, GIANT
Curated by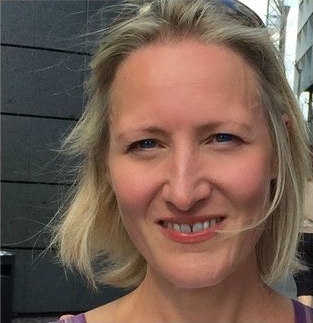 Maxine Birmingham
Chief Provoker of Thought, GIANT and Thinkingaroundcorners
After 2 decades leading commercial strategy & innovation for Global tech brands, I founded "Thinkingaroundcorners" to steer HealthTech innovation towards better outcomes. I joined the GIANT team in 2017 to connect and support innovators in health to collaborate and scale.