presents
Extending Healthspan in the age of Digital Health, AI & Covid-19
Overview
Hear from world-class leaders in Aging Science, Genetics, Digital Health start-ups and scale-ups that are focused on maximising healthspan, the biomarkers of aging, preventative health and digital innovation.
Why Attend?
Find out what advancements are happening in the world of aging science, and how scientists, founders and ecosystem leaders are bringing digital innovations to help slow or even reverse the aging process, reduce risk of disease and help people live healthier for longer.
Market Growth
Find out why maximising healthspan and longevity is the next trillion dollar industry. The market for digital health itself is exploding, growing 27.6% CAGR from $86.4bn to $504bn in 2025, with AI Health growing 50.13% CAGR from $2.1bn to $36.1bn in 2025. There is also an explosion in Digital Health Monitoring, with 39% CAGR from $254bn to $353bn in 2025. Digital Health is
bucking the rest of the market: H1 (the first six months of 2020) saw a record breaking $5.4bn invested into the sector, according to Rock Health, as the pandemic reminds everyone of the importance and opportunity in this area.
Importance of Aging
Aging is the main risk factor for most diseases, including non-communicable diseases such as cardiovascular disease, cancer and dementia, as well as infectious diseases, such as Covid-19.
Only 5% of the National Health Service budget is dedicated towards preventing disease, with 95% being allocated towards sick and palliative care.
Hear from a representative from the APPG (All Parliamentary Group of Longevity) as they share the vision for the Health of the Nation and how by 2025,we can increase the healthy years of healthspan by 5 years.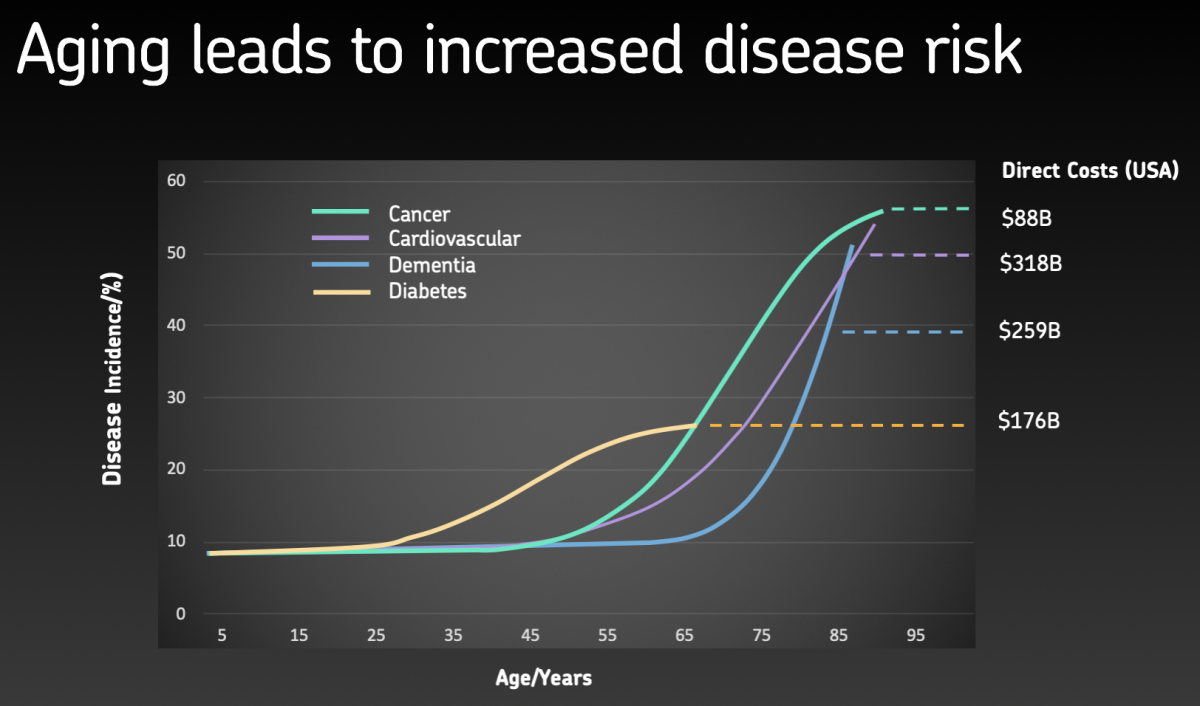 Impact of Covid-19
Because of Covid-19, every single weak and strong point of the world health care system is on full display at the moment. The need for products which increase people's health and immune strength has never been more clear.
Although this is a dark time for many, we already see major positive signs that this tragedy will be harnessed to make major reforms in the way we as a world prevent and fight disease, slow aging, prevent disease and keep people strong enough to fight infections and viruses.
Hear from those working to reduce the risk of non-communicable diseases from happening in the first place and those playing a major role in this evolving world and are racing now to join the fight.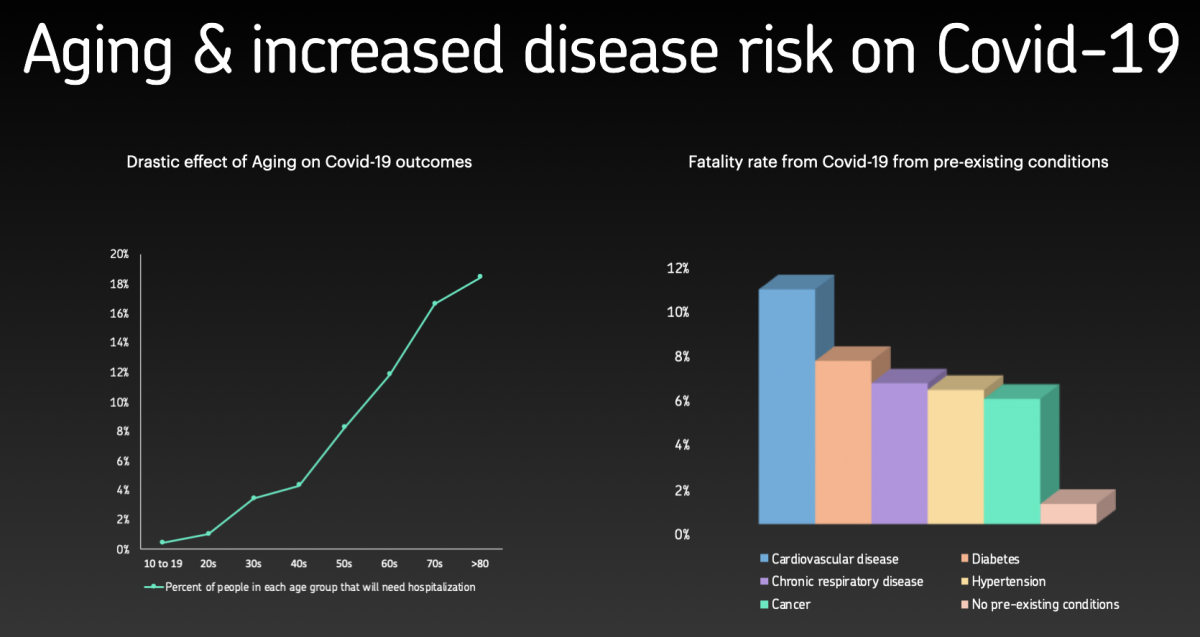 Agenda
All times are in Greenwich Mean Time (GMT)
1st December 2020
16:30 – 16:40
Welcome address by Humanity Founders, Peter Ward and Michael Geer
16:40 – 17:00
Extending Healthspan in the Age of Digital Health, AI & Covid-19
17:00 – 17:45

Opening Panel: Can we slow down, or even reverse the aging process?

Peter Ward & Michael Geer , in conversation with Aubrey de Grey , Chief Science Officer at SENS Research Foundation

17:45 – 18:30

Session 1: Biomarkers for Aging Part 1: Pharmaceutical Longevity Interventions

Kristen Fortney , Founder & CEO, BIOAGE (backed by Andreessen Horowitz)

Peter Fedichev , Co-founder & CEO, GERO

Aubrey de Grey , Chief Science Officer at SENS Research Foundation

18:30 – 19:00

Session 2: Early detection and prevention of cognitive decline

Learn how medical experts, AI and novel technologies are joining forces to help empower people to reduce their risk of dementia

Sylvain Piquet , COO and co-founder, SharpTx

Ivan Koychev , Consultant Neuropsychiatrist at Oxford University Hospitals NHS Foundation Trust

19:00 – 19:45

Session 3: Biomarkers for Aging Part 2: Using Wearables and Digital Biomarkers to improve Healthspan

How to predict disease and mortality risk, using wearables and your phone and how to harness digital markers to understand what actions can slow your aging

Christine Lemke , Co-Founder & Co-CEO, Evidation Health

Peter Fedichev , Co-founder & CEO, GERO

Peter Joshi , Chief Science Officer, Humanity Inc.

Thomas Olivier , Founder & CEO, Omnos

19:45 – 20:45

Panel Discussion: Biohacking - a niche market or the new norm?

Emilian Popa , Co-Founder & CEO, Ilara Health, Biohacker

Eduard de Wilde , Founder, Livehelfi.com and Noordcode.com , Coach, Biohacker

Teemu Arina , Founder & Chairman, Biohacker Center, Speaker, Futurist, Author, Biohacker

Siim Land , Founder, Siimland.com, Author, Biohacker

20:45 – 21:00
Roundup Notes by the Conference Chair
16:30 – 16:35
Welcome address by Humanity Founders, Peter Ward and Michaeel Geer
16:35 – 17:05

Keynote: The economics of Longevity - the next trillion dollar industry? Andrew Scott will be sharing some results from his recent research on the economic value and role of longevity gains/healthy ageing

Speaker: Andrew Scott , Professor, Economist, London Business School, Author, Researcher (The Longevity Dividend)

17:05 – 18:00

Opening panel: 'Healthy Longevity for All' Debate

Panel Lead: Tina Woods , Social entrepreneur, Author in Preventative Health, Healthy Longevity and Open Health Data/AI

Keith Comito , Co-Foundeer & President, Lifespan IO

Adriane Berg , Director of The Kitalys Institute and the Targeting Metabesity 2020 Conference, Speaker

Tõnu Esku , Professor of Human Genomics, Senior Manager at Estonian Biobank, StartUp Advisor, Investor

Michael Geer , Co-Founder & Chief Strategy Officer, Humanity Inc.

18:00 – 18:30

Session 1: 100 plus: how the coming age of longevity will change everything

Sonia Arrison , Author, Entrepreneur, Investor (Felicis Ventures, 100 Plus Capital)

18:30 – 19:00

Session 1: Smart Health - at the dawn of a new healthcare architecture

Thomas Olivier , Founder & CEO, Omnos

19:00 - 19:30

Session 3: The Path to Preventive Genomics

Robert Green , Professor of Medicine (Genetics), Harvard Medical School

19:30 – 20:15

Session 3: Bringing Health Breakthroughs Direct to Consumers

Panel Lead: Robert Green , Professor of Medicine (Genetics), Harvard Medical School

Sanjay Pingle , CEO, PWN Health (TBC)

Nicki MacManus , VP Transformation at CVS Health (TBC)

Peter Ward , Co-Founder Humanity

20:15 – 20:55

Panel Discussion: Investing in Health Tech - the current landscape

Panelists: Julia Hawkins , Partner, LocalGlobe (Chair), Other Partners at Venture Capital firms in process of confirming

20:55 – 21:00
Round up by the Conference Chair
21:00
ENDS