Giant Health Event Berlin
Posted: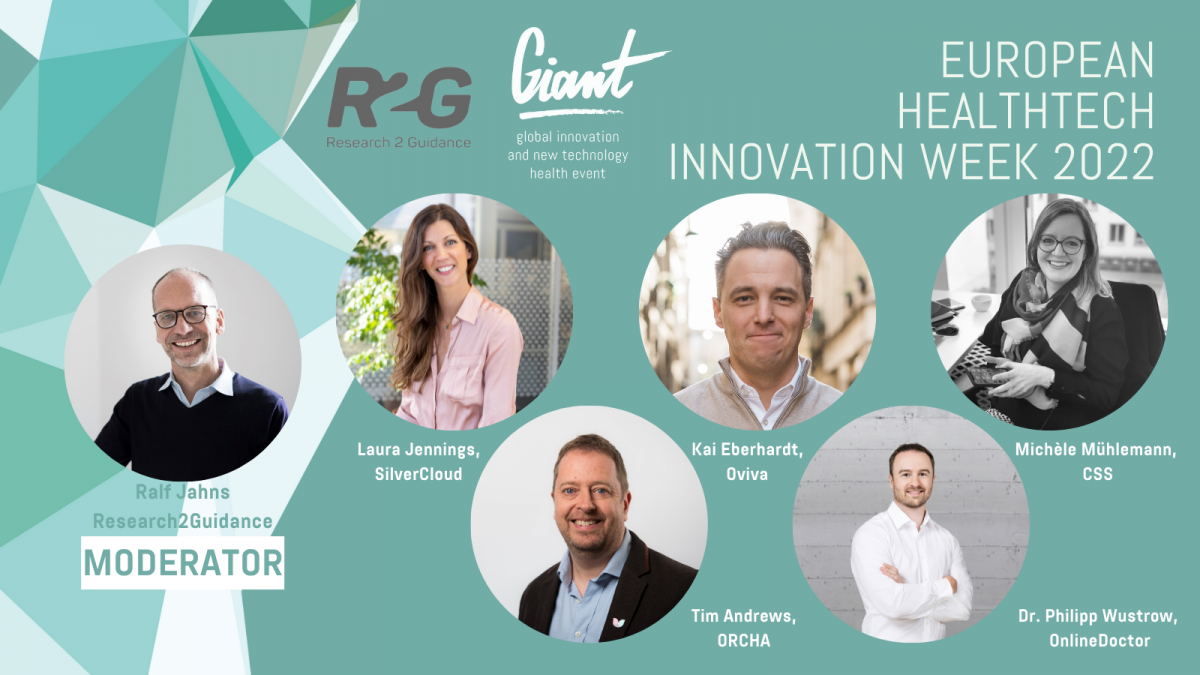 Panel Session Wednesday 18th (See panellists below)
9:15-11 CET
How to successfully navigate through the digital reimbursement systems in Europe.
By Teresa Murray, Freelance Writer, Innovation | Start Ups | Strategy | Giant Health Team Writer
Are you a digital health start up weighing up your options for monetization in the increasingly attractive European market or an established healthcare company interested in finding right the channel to reach doctors and patients or a company aiming to enter the digital healthcare space?
Then, join R2G's virtual panel discussion with renowned speakers from Oviva, CSS, SilverCloud, ORCHA and OnlineDoctor on May 18 at the GIANT Health European Health Tech Innovation week.
In this panel, we dive into the status of reimbursement opportunities in EU countries. Is DiGA a valid option to enter the European market? What adoption can be expected? Should other channels be prioritized in the next few years, and if so, which ones?
The discussions and debates around reimbursement in Europe will come from real business experiences on the vital lessons learned from real experiences.
This expert panel has been carefully configured to ensure diversity of perspective and experience. We have included innovative start-ups, a top insurer and successful global digital health brands who have pursued different reimbursement and monetization strategies in different European countries.
Valuable experience indeed considering the complexities of the European Healthcare landscape!
Each European country has its own national healthcare systems, each has different digital health adoption rates and is tackling digital healthcare regulations in a different way and at a different pace.
Developing a comprehensive market entry strategy and selecting appropriate distribution channel to achieve higher outreach among HCPs and patients is critical for success in Europe.
It can be time-consuming and resource demanding to grasp each country's market challenges and opportunities. It can be expensive to go through regulatory processes to qualify for reimbursement too, so choosing wisely is key.
A bit of background
Germany has implemented its DiGA Fast Track, and France and Belgium will soon introduce similar standardized reimbursement processes. Other EU countries will follow suit with DIGA copycats.
These advancements will make it easier for digital health companies to get reimbursed in the coming years.
However, despite some regulatory progress, reimbursement path roll outs and digital health adoption rates in Europe are not keeping up with the pace of digital health solution development, which has increased exponentially in recent years, catalysed as we all know by the pandemic.
What will be discussed
The core discussion of this panel will focus on the status of reimbursement in Europe for digital health solutions and the challenges present. The panel will also explore what each panellist considers to be the most promising opportunities for reimbursement in the European digital health landscape for the coming years, based on their own experiences and analysis.
We will hear from 2 innovative digital health start-ups, OnlineDoctor and Oviva who will discuss the challenges they themselves navigated with their reimbursement strategies and what is their path for success.
We will also hear from a top Swiss insurance company, CSS. The health insurance sector is a key strategic player and a clear potential enabler of digital health adoption and reimbursement.
Yet, there seems to be little traction and low proliferation of successful digital health reimbursement partnerships.
Insights on the reasons for this will be discussed.

National Healthcare reimbursement pools are another important opportunity for digital health companies, but as they need to be approached on a country-by-country basis, come with their own set of challenges. Many on the panel have experience with this too. Oviva's experience with the NHS in the UK and DIGA in Germany is just one example.
Employer reimbursement routes are another option in Europe, and we have Silvercloud Health's on the panel to bring their wealth of experience on this area.
Orcha, a global operator in the digital health space, has been in operation for many years now and started because of the realization that to truly garner digital health impact in the healthcare space solutions needed to be scalable. Scale is in Orcha's DNA and Orcha has years of experiences supporting others to scale their digital solutions to help as many people as possible.
The panellists will of course tackle the question of what key strategic elements digital health start-ups may need to factor into their go-to-market strategies for Europe and consider what other reimbursement channels should be prioritized in Europe over the next few years.
The Panellists
The Start Ups
Dr. Phillip Wustrow is Co-Founder & CEO of Online Doctor. OnlineDoctor is a leading healthtech start up focusing on asynchronous telemedicine in dermatology. OnlineDoctor's store-forward tele dermatology technology experienced massive adoption and growth during the Pandemic and continues to expand. Dr Wustrow can speak about his company's reimbursement experience in various European Countries.
Kai Eberhardt is Co-founder & CEO of OVIVA. Oviva is an award winning, C-Series start-up that provides multidisciplinary tech-delivered nutritional and lifestyle coaching and support. Since its beginnings in 2014, Oviva has experienced rapid growth, expanding from markets in the UK into Switzerland, Germany, and France. Oviva works in partnership with the NHS, the UK National Healthcare System, and many insurance providers in other countries. Kai will speak about Oviva's experiences in multiple European countries about these reimbursement partnerships.
The Insurers
Michele Muehlmann is the Innovation Manager at CSS. CSS is one of the leading insurance providers in Switzerland and a major health insurer that insures millions of people. For CSS innovation is embedded in its corporate mindset and integrated in the products it offers. Michele, as Innovation Manager, will be able to speak about partnering within the digital healthcare landscape and CSS's experiences with digital health start-ups.
The Global Players
Laura Jennings is the Global Head of Strategic Business Unit – Employers, at Silvercloud Health. Silvercloud is a major digital health provider operating across a range of health segments including mental health, chronic illness, and well-being. SIlvercloud partners with employers, health care providers and higher education so Laura can speak from her very broad range of experience on different reimbursement models and partnerships.
Tim Andrews is Co-founder & COO of ORCHA. ORCHA is a major global Digital Health app library that also provides Review and Accreditation services and information, as well as a host of other services, to support digital health solution development and adoption. ORCHA works with a large spectrum of heath care providers and entities so will bring much to the discussion on the challenges and learnings faced by Orcha's clients and collaborators.
Last but not least, the session will be moderated by Ralf Jahns, Managing Director of Research2Guidance, organisers of this session. Research2Guidance is a leading strategic analysis company in the digital health space, providing key insights, strategic advice and hands on partnership building and has a wealth of digital health knowledge.
See you there!