The GIANT Health Collective
What is the GIANT Collective?
The GIANT Health-tech Collective is an exclusive, private, premium membership organization – an international organization that provides cost effective services to all of the stakeholders in the healthcare technology sector.
Stakeholders
Founders, CEOs, Company Directors of profitable health-tech SMEs

Global corporates – i.e. large int'l pharma and med-tech hardware businesses

Healthcare providers.  Large national and international hospital groups.

Investors. Both professional PE/ VC investors, and private angel investors.
COLLECTIVE = A 360 DEGREE APPROACH TO BUSINESS GROWTH
Contact us
Some of the reasons to join: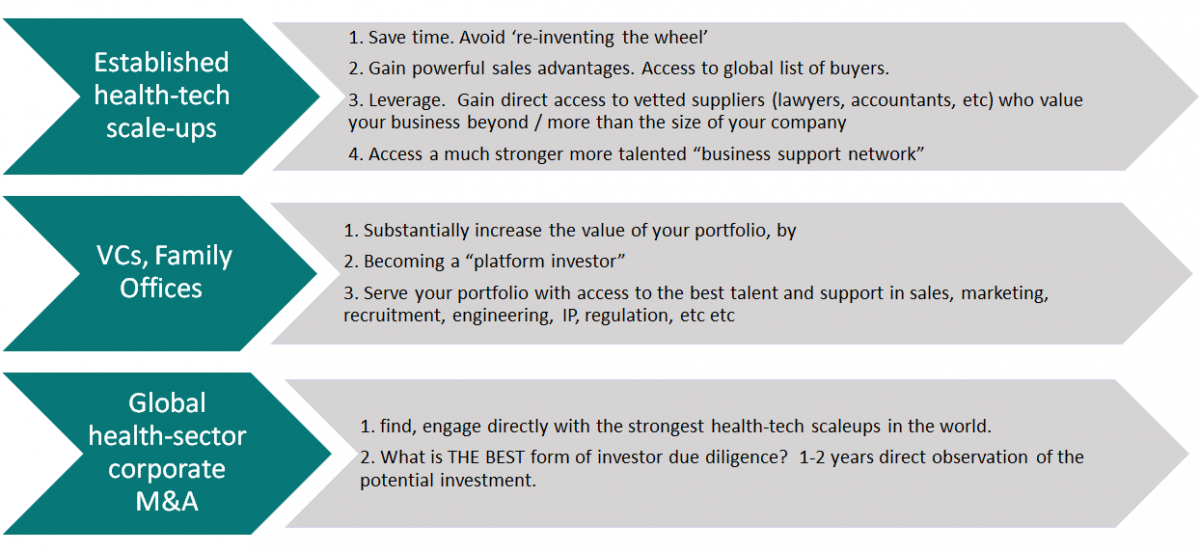 Every business always experiences the same challenges.
By joining GIANT's Growth-Accelerator you get cost-effective high-impact whole-business benefits.
What's included:
1. Cost-effective access to vetted suppliers that value your business very highly. GIANT vets and manages 'Preferred suppliers'
2. GIANT recruits and manages "Experts in Residence". Mentors with proven success in their domains, and a commitment to supporting GIANT members.
3. Gain motivation, renewed direction, strengthened focus.
Membership of an exclusive, driven, ambitious private "business success club"

Share and learn from other club members.

CEO peer learning and support
4. Training and Benchmarking
Templates "on how to build/grow rapidly your company"

Learn from everyone's previous mistakes.

Don't reinvent the wheel anywhere
5. GIANT's established global network
Investors

Hospital managers

Healthcare procurement.

Academia
6. Synergies for all members:
Health tech only

Access to procurement

Negotiated group discounts, i.e. business insurance.
7. Research
GIANT maintains high-calibre graduate student analysts year-round. You get 10 hours/week of this talent to utilize for any desk research question you may have

"What are the top 100 largest hospital groups in France?"

"Who's the head of healthcare at Google Ventures?"

"How do I receive grant funding to set up in the USA?"
GIANT Partners