Geography Is No Longer A Barrier To Safe Surgical Care
Posted:
The Flexner report, a series of studies about education in healthcare, published just over 100 years ago sparked radical reforms in the education of healthcare professionals. The result was the creation of a curriculum that equipped healthcare professionals with a knowledge base that contributed to the doubling of lifespan during the 20th century. Recently the Lancet report on "Global Surgery" has highlighted that all is not well in global surgery, this may well be a stimulus for reform of the current surgical training and delivery model.
The Lancet commission finds that whilst there are just over seven billion people on earth, five billion do not have access to safe surgery. These inequalities exist both within and between countries, a reminder that geography remains a strong determinant of patient outcomes.
The global situation is impacted doubly by an aging population that is driving demand; as well as, a reduced workforce supply with a dwindling talent pool of surgeons. The latest figures argue the global surgical workforce will need to double in the next 15 years to cope with current demands. The global impact is such that both the World Health Organisation and World Bank said in 2014 that identifying and improving surgical capabilities is an essential step to raising health and economic standards around the world.
In a world that has never been so well connected, where a "tweet" can behave like a virus, quickly becoming epidemic, and where technology has enabled video conversations across multiple time zones, why have we been unable to improve the standard of surgical training and delivery globally?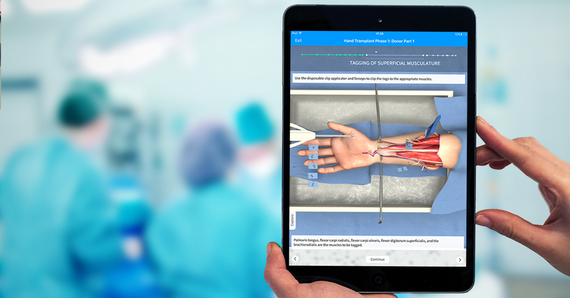 (Credit: Touch Surgery)
To begin with, surgery operates in silos. Surgeons around the world don't have access to equal levels of training, nor the opportunity to learn the latest and most effective surgical techniques. Such a learning gap, largely based around geography, impacts patients, but also starves the global healthcare community of many more people who could help, if they had the opportunity. Furthermore, utilising technologies that enable repetitive flexible learning opportunities with objective feedback, could significantly reduce the learning curve and therefore the time to achieve proficiency. As a result the supply of a proficient surgical workforce required to meet the demand of the aging population could be significantly improved.
Investment in global health professional education is about US$100 billion per year, again with great disparities between countries. This amount is less than 2% of health expenditure worldwide ($5.5 trillion) which is modest for a labour-intensive and talent-driven industry. The average cost per graduate is $113,000 for medical students and $46,000 for nurses. Stewardship, accreditation, and learning systems are weak and unevenly practiced around the world. Although a considerable additional investment is required by state, private and public enterprises in training surgical professionals, that investment over the long term can be offset through the use of scalable technology systems which reduce inefficiencies and wastage.
It's not all bad news. There are some really impressive efforts at addressing global healthcare. Syrian doctors are performing life-saving operations with Skype; and surgeon John Langell developed the Xenoscope to bring minimally invasive surgery to regions of the world that can't afford it. Each is a fantastic example of our greatest minds solving big problems. But, how can we go even further?
For Touch Surgery co-founder Andre Chow and I, the global proliferation of mobile phones - and, indeed, the internet - presented an opportunity for progress. We think that by integrating cutting-edge surgical mapping and visualization with game development, VR/AR, we can take deep procedural knowledge and create ground-breaking simulations, allowing surgeons to practice complex surgical procedures before stepping into the operating room - wherever in the world that OR may be. Now, access to support and training is in the palm of our hands. What's more, the modules on Touch Surgery, created in partnership with universities like Harvard and John Hopkins, are being used by resident surgeons the world over, in countries like Russia and Spain, and even as far afield as Cambodia. We're seeing incredibly promising results, and so we'll continue to push forward.
What all of these efforts demonstrate - those by Touch Surgery, and doctors the world over - is the power of technology to help us break down the geographical barriers to raising the standard of surgery everywhere. Surgery at its core is about people and the unique encounter between a patient who needs help and a surgical team entrusted to deliver care. The driving force for professional education must therefore be to augment the performance of the surgical team and their tools/ medical devices to meet the needs of patients and populations in an equitable and efficient manner.
There is not going to be a technology silver bullet or just one solution. Supporting training of surgical teams with technology to drive better performance is just a start. We can only hope to have the same effect on lifespan / patient outcomes as the curriculum changes associated with the Flexner report.
We don't yet have all the answers, but by combining intelligence and expertise from the business, engineering and medical worlds, there's hope in truly innovative solutions to the world's biggest health problems.
References
http://www.physiciannursesupply.com/Articles/physician-workforce-study-2007.pdf