What is 5G in Healthcare?
5G in healthcare is the transformational tool to increase the efficiency of healthcare delivery, by boosting speed and capacity whilst also reducing latency. The powerful 5G network capabilities have endless potential for healthcare with possibilities such as the transmission of large medical images, the facilitation of telehealth initiatives and the supporting of remote patient monitoring controls.  
In addition, 5G will also facilitate faster downloads and communication on mobile devices and tablets used in Healthcare settings, becoming a fitting complement to Wi-Fi.
Request a Phone call
Apply to speak
Reasons Behind Conference Track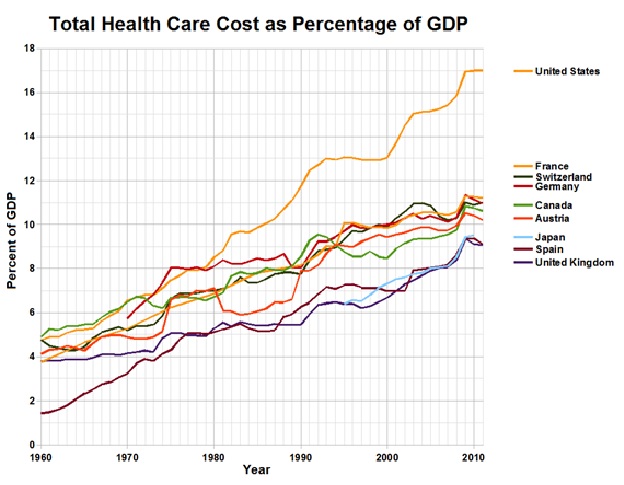 With Hospital costs ever increasing, even prior to the scrutiny COVID-19 has had on the Healthcare industry, Hospitals have been losing more of their total health care cost as percentage of GDP year on year. The image here highlights this worrying trend.
This year GIANT Health will deliver an important conference track for 5G and healthcare to bring the most intelligent and influential minds on these matters together to advance the innovation and adoption of the most successful and valuable 5G applications to improve health outcomes.
Why 5G is Crucial to get behind?

As the rise in total health costs become ever more challenging, by the inclusion and adoption of 5G technology more services at a lower cost can be achieved
Reliable, real time monitoring, where the 86% of doctors who say wearables, a common type of remote monitoring, increase patient engagement with their own health and are predicted to decrease hospital costs by 16% in the next 5 years.

Providers of such healthcare can be confident that they will receive the data they need in real time and can provide the care their patients need and expert. With gigabyte imaging being able to provide rendered diagnostic animations to mobile devices over a 5g Network using millimeter wave spectrum.
Who's The Conference For?
All professionals working in the telecoms industry as well as healthcare technology companies who mainly specialise or have an inherent interest in 5G applications.

Professionals working in the the telecoms sector with a focus on Healthcare.

Tech Investors.

Healthcare startups, and established SME's who have technology based on telecoms connectivity and applications of 5G technology.

All Clinicians who use connected services.

Management Consultants and the technology services sector.

Academics and engineers working in the 5G telecoms sector.
SHOWCASE YOUR 5G innovations at GIANT Health 2020.
According to The Financial Times, GIANT Health is: "Europe's largest and most valuable healthcare innovation event"
The high-profile and exciting '5G in Healthcare' demonstration Pavillion' provides a valuable showcase of the important products and services which you have to support the worthwhile implementation of 5G in healthcare.
Conference Agenda
The Conference will consist of Several Sections:
An introduction to the 5G in healthcare environment.

Discussions of successful implementations of 5G already, with case studies such as Vodafone partnering with Barcelona's San Raffaele hospital to develop 5G ambulances which allow paramedics to stream real-time HD video support from remote specialists while transporting patients. The extremely low latency of Vodafone 5G has also been used to allow specialist clinicians to guide surgeons in the operating room, long-distance but in real time (Medical Device-Network, 2019).

5 Healthcare Tech Businesses pitching their 5G technology to healthcare procurement leaders and investors.

Conversations about the future of 5G within Healthcare and the opportunities and benefits that this is creating.

Demonstrations of future healthcare scenarios with deployment of 5G.

Keynote speeches from leading experts.